SSCC ClubSport Championship
Ever wanted to have a go at motorsport???
This is where it all starts - Basic entry-level motorsport, in your own road car.
Test your skills against the clock in two fun events - Motorkhana and Autocross.
Competitors can start from as early as 12 years of age.
A relaxed atmosphere where having fun and enjoying the challange are the focus.
SSCC CLUBSPORT DATES 2023/2024
Sunday 1 October 2023 - Round 1 Motorkhana/Autocross
Sunday 12 November 2023
- Round 2 Motorkhana/Autocross
Sunday 10 December 2023 - Round 3 Motorkhana/Autocross
Sunday 3 March 2024 - Round 4 Motorkhana/Autocross
Saturday 23 March 2024
- Round 5 Motorkhana/Autocross
Saturday 27 April 2024
- Round 6 Motorkhana/Autocross
Motorkhana Sign in 8:30-9:00, starts at 9:30am
Autocross Sign in 12:00-12:45, starts at 1pm
Motorkhana - $30 entry fee
Autocross - $45 entry fee
For further details contact Anthony Ralston 0273093986.
Clubsport Rnd 1 - 6 Entry Form
-
Here
Underage Indemnity Form
- Here
Rnd 1 - 6 Motorkhana Supplementary Regulations
- Here
Rnd 1 - 6 Autocross Supplementary Regulations

- Here
Driver and Vehicle Safety Requirements

Vehicle is of WOF standard
No snow or rally tyres, Tyres may not be changed between courses.

Vehicle to WOF standard / MSNZ Schedule-A

100% Cotton or Approved Overalls

Approved Helmet

Approved fire extinguisher fitted (preferrable)

Motorsport NZ - Schedule A details all vehicle requirements, please read this to ensure your vehicle is to standard.
---
Evolution Motorsport have very kindly donated a car for those wanting to "have a go".
A small hire charge applies.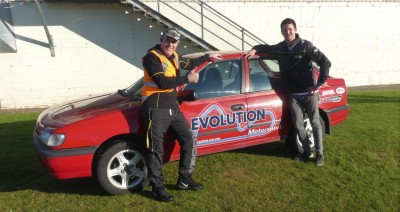 Motorkhana
Tight course around cones against the clock. Three challenges, each competitor has three attempts at each challenge with their best times being added to a total. Motorkhana is well suited to small nimble lower powered cars and helps a driver develop precision car control.
AutoCross
Speed event, typically 1-2 minutes in length racing against the clock. Drivers get an 'indian file' familiarization run followed by three timed runs. Fastest time counts.
Due to the higher speeds reached in a sprint vehicles are required to be fitted with a fire extinguisher and drivers are required to wear fireproof (100% cotton is fine) overalls and a helmet. Helmets may be hired from the club.
SSCC Bent SprinT
Time to get the team together and have an event where EVERYONE can compete in. It doesnt matter if you have a RACE car, RALLY car, CLUBSPORT car, or are borrowing nan's shopping cart. The bent sprint is the perfect event to get a wide variety of cars together. There may be some surprising results!
The plan of action is like this:
1: Set up an open but technical course using our sweet facilities. There are a tonne of options to do at the track if we look at starting locations, running direction. Each event will have a different course which will test your skills in different ways.
2: After an indian file familarisation run you will get 4 timed runs to smash our your best, but it doesnt stop there
3: The top ten compeitiors based on overall time will have their times wiped off the board (sorry guys!), but you will battle it out in a top ten shootout. Not only do you have to be fast, but you have to be consistent. The time you get in the shootout is what will count for the event.
The basic requirements are that you need to have a car up to schedule A, the driver needs a minimum M Grade Motorsport NZ licence.
Bent Sprint Supplementary Regulations - Here

Bent Sprint Entry Form - Here
Bent Sprint Underage Indemnity Form - Here
We ran a bent sprint as part of the ClubSport Nationals, so check out this video below and picture your (insert NZV8, EVO rally car, Formula Ford, Corvette, Corolla, Nan's Getz, etc) hooning around a track like this. Just you and your car going 100% for that ultimate time.