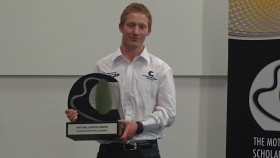 Media Release
Sunday 6 July 2014
Elite MotorSport Academy won by NZ Formula Ford champion
Young Formula Ford ace Jamie Conroy has taken the top spot at this year's Elite Motorsport Academy in Dunedin. The 23 year old from Invercargill rose to the challenge and demonstrated the same skills and strengths which took him to the 2013/14 NZ Formula Ford Championship title.
Eight young men took part in this year's Academy with the Teams Award being won by "Team Rebound" which Jamie was a member of, plus Drew Donovan (Drift), Ryan Yardley (Formula Ford) and Taylor Cockerton (Formula First).
Run in conjunction with Excellence in Sport South Island and the School of Physical Education at Otago University, the Elite Academy is now in its eleventh year and has had just shy of 100 participants through. Recent graduates of the academy have been WRC rally ace Hayden Paddon, V8 Supercar driver Shane van Gisbergen and rising single seater star James Munro who won the Academy in 2013.
The participants are put through an intense week of physical and mental challenges, plus lessons in team building, nutrition, media skills and sponsorship; all important components in building a successful motorsport career.
Once they leave the academy the training continues with tailored graduates programmes for each which will help them reach their goals within the sport.
MotorSport NZ General Manager Brian Budd commented "once again the Academy didn't disappoint, the challenges were as great as ever and the eight participants were stretched to their limits.
"I'm sure they surprised themselves with their strengths in various disciplines; the week-long course really does highlight those strengths and gives them something to build on going forward.
"Our congratulations go to Jamie, he demonstrated an impressive dominance through the 2013/14 Formula Ford season, his first season fresh out karting, and for him to now take the Elite Academy shows what a champ he is; a truly deserving winner."
Ends
Released by: The MotorSport NZ Scholarship Trust
Contact: Brian Budd, Ph: 027 676 9546
---
CIRCUIT RESOLUTION
On Friday May 23rd 2014 representatives from Highlands Motorsport Park, Pukekohe Park Raceway, Taupo Motorsport Park, Mike Pero Motorsport Park Ruapuna, Timaru International Motor Raceway Levels, Teretonga Park, Manfeild Autocourse and Hampton Downs Motorsport Park met prior to the AGM of Motorsport New Zealand to discuss various matters arising within the Circuit Owners Group.
With the exception of Taupo Motorsport Park, which abstained from the vote due to existing contracts being in place with the BNT V8 SuperTourers, the following resolution was agreed by all of the above named circuits.
"We the undersigned circuit owners have resolved the following:
Unless V8 SuperTourers and NZV8TC TLX cars resolve to come together and compete with each other as one race and ultimately one championship, then the circuit owners will not allow their circuits to be used by these classes individually.
The decision has been taken independently of Motorsport New Zealand and is unanimous amongst the circuit owners."
---
BIG NIGHT OUT FOR SOUTHLAND SPORTS CAR CLUB
It surely must rate as one of the most successful nights in the long and illustrious history of the Southland Sports Car Club.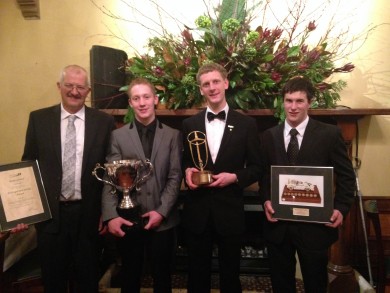 Five club members were honoured at the recent Motorsport NZ Premier Awards in Dunedin while another was a finalist for one of the country's major motorsport awards.
Two club members, Jamie Conroy and Cameron Morison, were on hand to pick up their national titles won throughout the 2013/2014 season. Conroy won the New Zealand Formula Ford Championship in his first season at national level, dominating the championship with 16 wins from 18 races. Meanwhile Morison claimed the 2014 Motorsport New Zealand Clubsport Championship in Waimate which gained him the NZ Gold Star and the Molesworth Trophy.
Damon Leitch received the Bruce McLaren Memorial Trophy after finishing third, and first kiwi, in the 2014 Toyota Racing Series.
Meanwhile Bevan Gerrard, the current Chairman of the Southland Sports Car Club Race Committee and a timekeeper at the circuit for more than thirty years, received a Distinguished Service Award while Wal Wilmott, the first mechanic employed by Bruce McLaren in England, won a Historic Heritage Award.
Conroy was also a finalist for the prestigious Jim Clark Trophy for the driver who shows a sportsmanlike attitude to the sport and natural ability in putting up the most meritorious racing performance during the season. The award was won by Mitch Evans who is currently competing internationally in GP2, the feeder series to Formula 1. Conroy and fellow club member Brendon Leitch were both finalists for the Steel Memorial Trophy for a junior driver who has displayed dedication, skill and a level of professionalism in their driving aiming to progress to the upper echelons of the sport. James Munro of Christchurch, currently leading the Formula Masters China Series, won this award.
There was more good news for the club when two members, Conroy and NZV8 Touring Car star Liam MacDonald were confirmed as inductees into the 2014 Elite Motorsport Academy during the evening. The Elite Motorsport Academy is run by the Motorsport NZ Scholarship Trust in conjunction with Excellence In Sport South Island and the Otago University sports science specialists. It features a demanding programme, both physically and mentally, focusing on a wide range of skills required for high performance sport. Participants must meet a high level of physical fitness before attending.
Article courtesy of Lindsay Beer
---
CONROY ADDS SOUTH ISLAND FORMULA FORD CHAMPIONSHIP TO NATIONAL TITLE - Read More

---
CAMERON MORISON WINS NEW ZEALAND CLUBSPORT CHAMPIONSHIP TITLE - Read More

---
CONROY WINS NEW ZEALAND FORMULA FORD CHAMPIONSHIP - Read More

---
LEITCH BROTHERS WRAP UP SUCCESSFUL SERIES
Damon and Brendon Leitch wrapped up their 2014 Toyota Racing Series campaigns in fine style at Manfeild Park in Feilding this weekend.
DAMON LEITCH THIRD IN TOYOTA RACING SERIES - Read More

BRENDON LEITCH ENDS SERIES ON A HIGH - Read More

---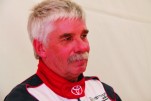 Kevin Thomson (Southspeed)
It is with great sadness that we advise the sudden death of Kevin Thomson. Kevin has been a long-time friend and member of the Southland Sports Car Club and our official photographer at Teretonga Park. His incredible generosity in supplying photos for our archives of all our Race Meetings for many, many years has always been greatly appreciated.
Our sincerest condolences go to Gwen and his family at this incredibly sad time.
---

GENEROUS SUPPORT SECURES NEW ASSET FOR TERETONGA

Click here to read the full story
Thanks to the generosity of two long standing sponsors, the Southland Sports Car Club
has taken delivery of a dedicated course car for Teretonga Park.
Media_Release_-_New_Courser_Car_for_2012.pdf