CLASSIC CARS PROVIDE CLASSIC RACING AT SPEEDFEST
The classic cars at the Mobil 1 Classic SpeedFest at Teretonga Park near Invercargill this weekend provided some classic racing for spectators with two days of enthralling racing.
The Ricoh Historic & Classic Saloons Pre 78 featured a massive field which provided great action and four different winners across the weekend. The first race finished under Safety Car with Scott O'Donnell of Invercargill leading in his Ford Capri ahead of Rodger Cunninghame of Te Anau in a Mustang with Bruce Farley of Nelson in his Vauxhall Viva GT third. Mark McGuinness of Wellington in an Alfa Romeo GTV won the second, a handicap event, taking the race on the line from Neil Greene of Dunedin in a Ford Anglia 100E.
Sunday morning saw a Mustang trifecta with Cunninghame winning from Stacy Lines of Invercargill in a Leon Hallett owned Mustang with Hallett third in his other Mustang. Hallett, of Mosgiel, then won the finale from Cunninghame and O'Donnell.
The Archibalds Historic Touring Car class provided some epic battles, particularly between Scott O'Donnell of Invercargill in his Ford Mondeo ST and Arron Black of Dunedin in a BMW E30. Black took the first race ahead of O'Donnell with his brother Stuart Black of Dunedin third in a Toyota Camry. That trio had a good battle in the second with O'Donnell winning from Arron and Stuart. O'Donnell and Arron Black then had an epic battle in the third in which O'Donnell prevailed before O'Donnell scored another victory in the last.
Steve Ross of Dunedin won two of the four Southland Tyre Centre Classic Saloon races in the PDL 1 Mustang, the first after coming from the back of the grid to pip Guy Stewart of Christchurch (Porsche 911 IROC) by .416 of a second. However, he could not overcome the handicap given to him in each of the weekend's handicap races, coming through to third on Saturday behind Christchurch driver Marcus Stewart (Porsche 964 RS) and Darin Hills of Tauranga in a Ford Escort and third on Sunday behind Bruce Goodwin of Kimbolton (Ford MK3 Zephyr) and David Robertson of Invercargill in a Ford XP Falcon.
Mike Baker of Picton in a Porsche 911 won the first Downer Sports & GT race from Marcus Stewart (Porsche 964RS) before Stewart beat Baker in the next two. With that duo absent from the last Mark Scott of Wellington in a TVR Tuscan picked up the win from Invercargill driver Jamie Robertson.
Paul Coghill of Dunedin in his Jaguar Special won both i-Hire Vintage Racing Car races on Saturday, the first from John Rapley of Wellington in a Brabham BT2 and Russ Haines of Ashburton in a Holden Special and the second from Neil Longman of Invercargill in a Mallock U2 and Haines. Sunday morning's race went to Jim Bennett of Dunedin in a Furi Impulse after a sprint to the flag after a safety car period. Royce Bayer of Rangiora in a Bello RNB1 shaded Longman for second by .005 of a second. Coghill dropped down the order as the race progressed and did not appear in the fourth which was won by Mark Barrett of Christchurch in a Lotus 23B Replica from his wife Tracey in another Lotus Replica with Haines third again.
John Williams of Christchurch comfortably won all four Formula Libre races in his Crossle FF2000, leading home Steve Heffernan of Invercargill and Steve O'Donoghue from Tauranga in a Mirage M5 in the first two, then Peter Grant of Christchurch in an Elden and O'Donoghue in the third, and Grant and Keith Cowan of Christchurch in the finale.
Invercargill driver Jordan Michels in his Ford Focus V8 had a top weekend in the Noel McIntyre Drainage Club Saloons class winning all four races from Liam MacDonald in his Ford Falcon, the Flying Farewell featuring a great early dice between the two.
The next meeting at Teretonga Park is the NZ Super Truck and Mainland Muscle Car event supported by a large number of classes over the weekend of 19/20 March.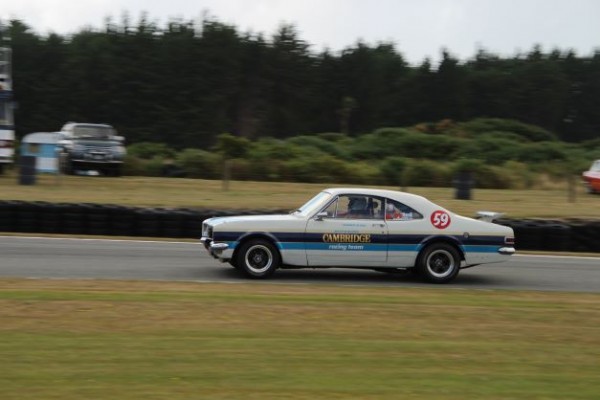 John McKechnie of Auckland in the Team Cambridge Racing Holden Monaro, making its second appearance at Teretonga Park in Invercargill, 52 years on from its first in 1970, at the Mobil 1 Classic SpeedFest this weekend – please credit Ron Veint.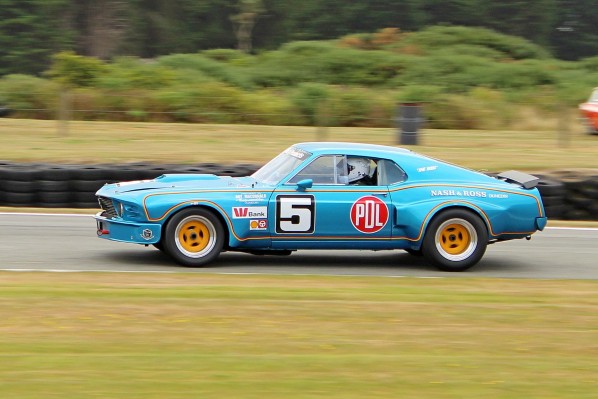 Dunedin driver Steve Ross in the PDL 1 Mustang, winner of two of the Southland Tyre Centre Classic Saloon Races at the Mobil 1 Classic SpeedFest at Teretonga Park in Invercargill this weekend – please credit Ron Veint.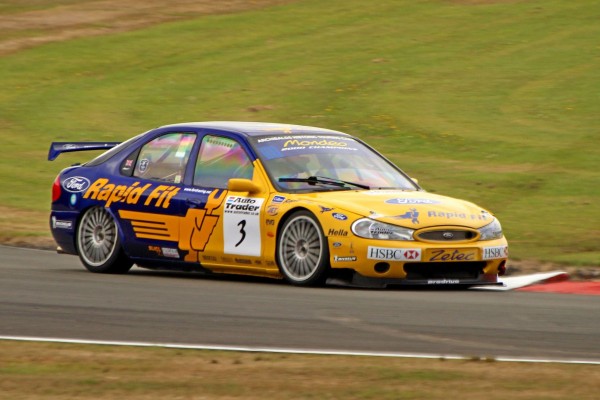 Scott O'Donnell of Invercargill, winner of three of the four Archibalds Historic Touring Car races at the Mobil 1 Classic SpeedFest at Teretonga Park in Invercargill this weekend – please credit Ron Veint.